The Paella Valenciana is undoubtedly the most popular and famous local dish but we will see that the gastronomy of the region of Valencia is much more than Paella. Although most of the Valencia cuisine uses rice as the main ingredient, it is also characterized by its local fruits and vegetables and its fish and seafood. 
In this article, we are going to present 10 typical dishes of the Valencian Community that you must try if you come to Valencia and want to eat like a local.
1. Paella Valenciana
How not to start with the internationally known Paella Valenciana? Paella is a Valencian word that means "frying pan" in which is cooked the dish. It is made out of polished or coated steel with two side handles, and it is the tradition to eat directly from this pan rather than from individual plates.
Today there are plenty of Paella recipes, some with surprisingly mixed flavors (snails for example) ! The traditional Paella Valenciana is made from rice, chicken, rabbit, beans, garrofones, olive oil, tomato, saffron and rosemary.
If you want to eat as a local, you must order it at lunchtime as you will never see a Valencian having a Paella for dinner. This festive dish is usually eaten on Sundays with family and friends.
2. Arroz al horno
Arroz al horno (meaning oven baked rice) is the second traditional rice-based dish in the region of Valencia.
As the name suggests, this dish is baked in the oven using a terracotta pot. In addition to rice, the main ingredients are chickpeas, potatoes, tomatoes, meat (often pork and black pudding) and garlic.
Less known than the Paella Valenciana, it is however generally preferred by many Valencians. It is also to be eaten at lunchtime.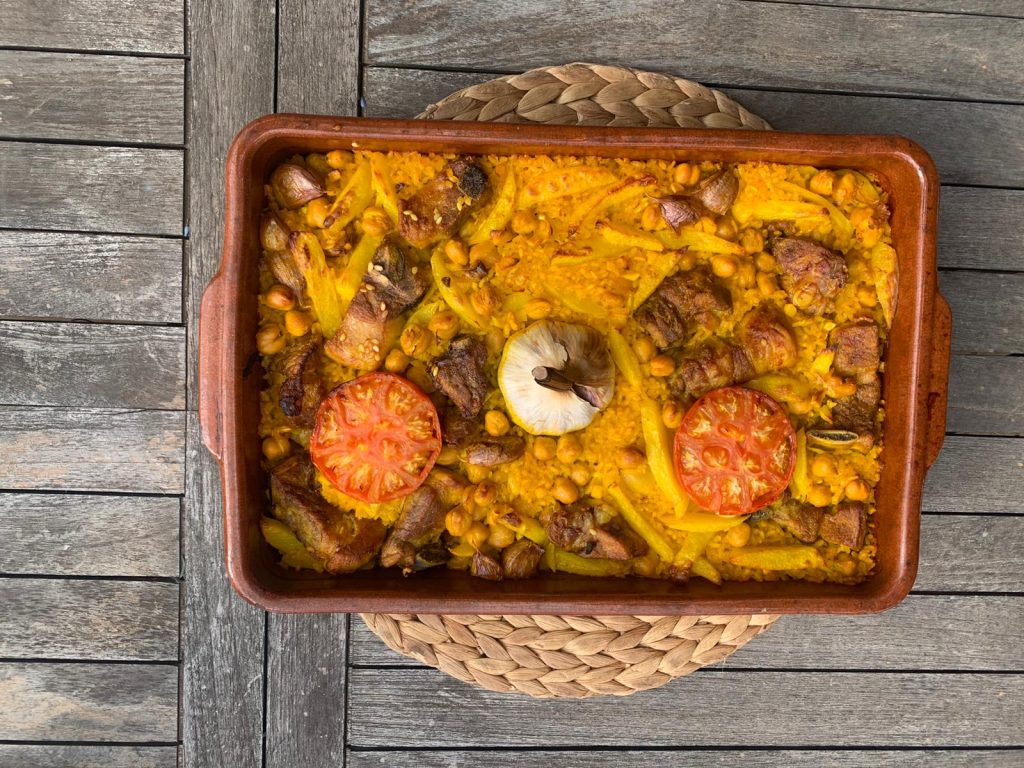 3. Fideuá
Fideuá is similar to Paella and is cooked in the same dish. The main difference is that this traditional Valencian dish is made from noodles instead of rice. Traditionally, it is also accompanied with delicious seafood and fish such as gambas and sepia. 
This is a perfect alternative to the Paella if you want to try something else and more typical.
4. Esgarraet
Esgarraet is a salad you can find in many tapas restaurants around Valencia as it is particularly appreciated by tourists and locals. 
It is made with bacalao (salted cod), roasted red peppers, garlic and extra virgin olive oil. It usually comes with some bread on the side to soak up the juices. The name Esgarraet comes from its preparation as desgarrar means to tear, and both the peppers and the bacalao are cut into fine strips.
To enjoy a good Esgarraet, whether at a restaurant or at home, make sure you have fresh produce on your plate.
5. Coca de tomate
The Coca de tomate is an important dish of the Spanish gastronomy that originated from Castellón. It can be compared to a pizza with a dough prepared with flour and baked in the oven, to which is applied a filling of tomatoes and fresh vegetables. 
The Coca de tomate is generally served during the aperitif.
6. Olla Valenciana
La Olla valenciana is a traditional Valencian stew that will certainly remind you of the type of dish you used to have with your grandparents. Indeed, it only uses simple and quality products that are steam cooked to produce this dish which is eaten mainly in winter.
There are many recipes which vary by municipality and family with the main ingredients being chickpeas, vegetables, meat and bones to add flavor.
The resulting broth can also be reused to prepare other dishes and the chickpeas used in Arroz al horno.
7. Coca de llanda
The Coca de llanda is a traditional sweet from the Valencian Community. Also called Coca boba in Alicante or Coca mal feta in Castellón, it is ideal for breakfast or for an afternoon snack.
It's quick and easy to bake as you only need flour, eggs, oil, sugar and lemon zest. This sponge cake is prepared in a llanda (tin cake pan) and is sprinkled with cinnamon.
You can add your favorite ingredients to personalize your Coca de Llanda: chocolate, nuts, apple, etc.
8. Horchata with fartons
Horchata is a traditional drink from the region of Valencia, and more specifically from Alboraya, a town located 3km north of Valencia. It is a refreshing and milky drink made from chufas (a tuber made mostly of water and sugar). Although originally from Africa, these tubers are now cultivated in Alboraya thanks to its climate and the state of its soils.
Served frozen and usually accompanied by fartons (pastries), it is mainly consumed in hot weather.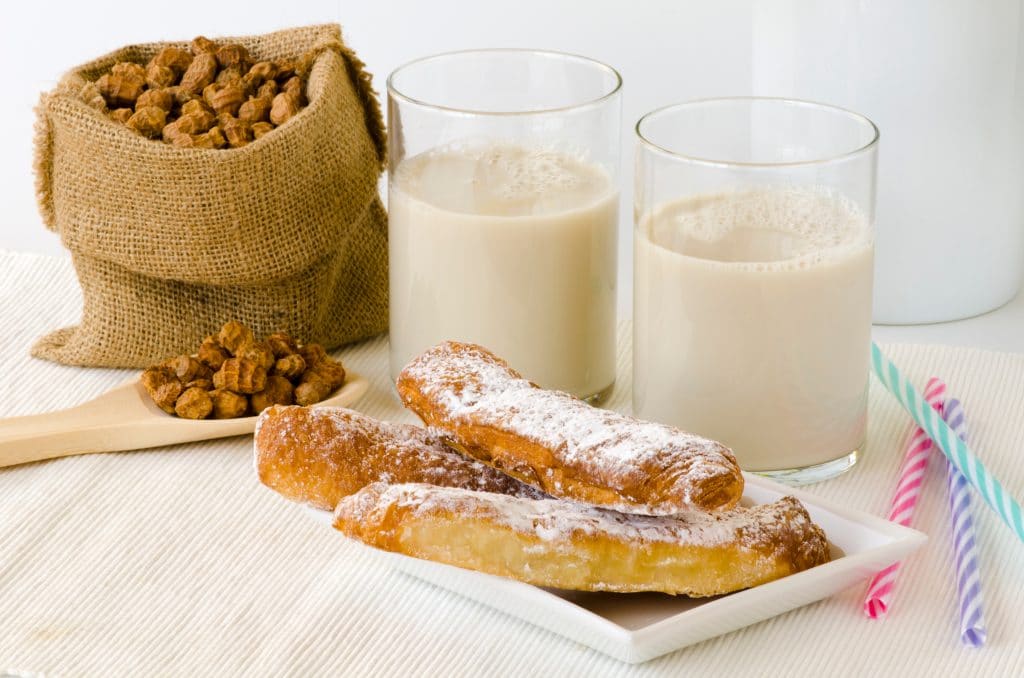 9. Sweet potato cake
The Pasteles de boniato, also called Pastissets de Moniato in Valencia are one of the most typical desserts of the Valencian Community. They are mainly consumed during religious festivities and especially at Christmas time.
This dessert is made from a sweet potato filling that is wrapped in an anise liqueur dough. The other ingredients are cinnamon, lemon, sugar and flour.
This dessert is a must for its long tradition in Valencia and its taste 🙂
10. Cremaet
We finish our tour of some of the most famous and traditional dishes of the region of Valencia with a small digestif, the Cremaet. Consumed during the traditional almuerzo (the meal between breakfast and lunch in Spain), this drink can also be served at the end of a meal with family and friends.
The Cremaet is a coffee with rum, sugar, lemon, and cinnamon. Its preparation is quite difficult, and if you have a good Cremaet, you should be able to distinguish three colors. 
Conclusion
We hope you've got your mouth watering with these 10 traditional dishes from the region of Valencia.
If you have already tried one of these dishes or would like to recommend one to us, please let us know in the comments or by email at [email protected] 🙂